Yard Routing Control Systems (NX)
FlexTrim is one of 3Z's other flagship products designed specifically as an eNtrance to eXit(NX) route lining system. Typically utilized in yards, FlexTrim can be installed to control switches and line routes in departure yards, receiving yards, and local yards and is also a perfect solution for lining routes on trim leads, hump leads, and other miscellaneous yard leads. FlexTrim is an ideal solution for intermodal facilities, fueling facilities, loading and unloading industry facilities, and port authorities that rely on rail yards and rail traffic.
For mainline routing systems, 3Z's FlexRoute is the perfect solution. Similar to FlexTrim, FlexRoute is an NX system and is designed to be used a non-vital computer-aided dispatching system.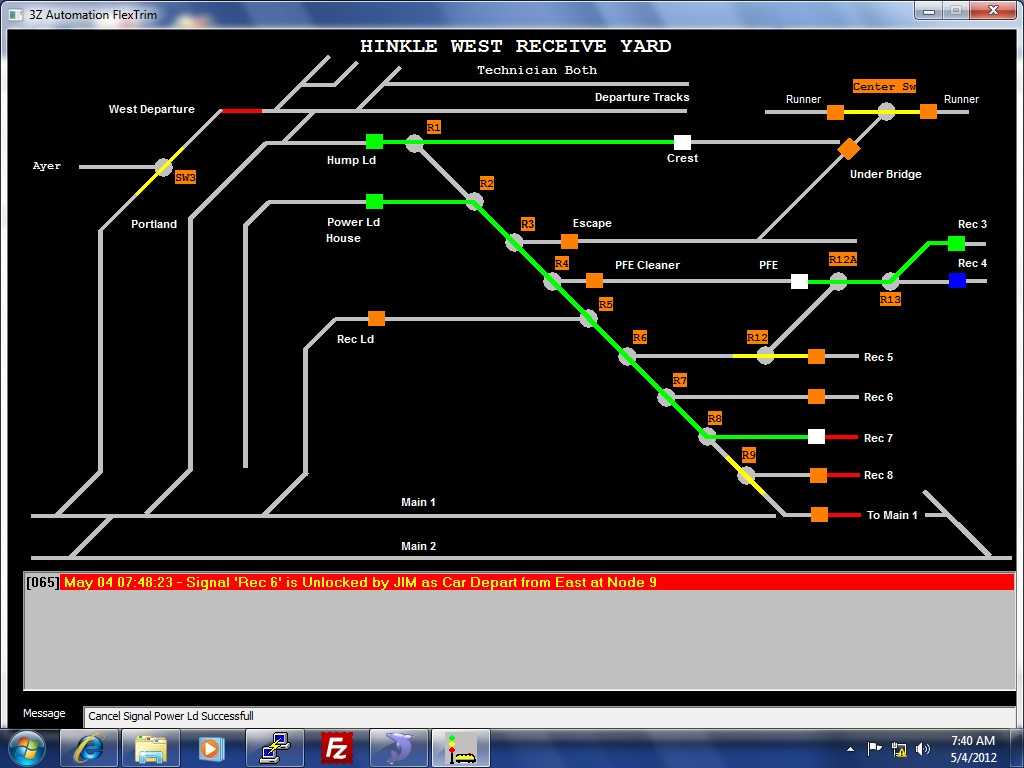 FlexTrim: NX Yard Routing System
Entrance/Exit Switch Routing (NX)
Receiving, Departure, or Local Yards
Trim, Pull-Back, or Other Yard Leads
Intermodal Facilities
Fueling Facilities
Industrial Leads
Mining Facilities
Commercial Facilities
Port Authorities
Short Line Yards
Flag and D-Rail Control
FlexRoute: Mainline CAD System
Mainline Non-Vital Computer Aided Dispatching System
Functionality and Capabilities
Switch and X-Over Control (pneumatic, electric, electric/hydraulic)
Switch and Route Locking
Track/Switch Occupancy Detection
Complete Hardware Redundancy
Web Based Logs, Reports, Configurable Automated Alarms, and System Health Monitoring
FlexDraw Workstation HMI Graphic Design Too
DTMF Radio Control
Industrial Ruggedized Touch Panel PC HMI
Take Control: Install Reliability
3Z's FlexYard and FlexTrim control systems are our cornerstone products. Designed specifically for rail yard applications, these systems are built to be reliable and eliminate unplanned downtime in any rail yard. Years ahead of the industry's competing products, FlexYard is built with the industry's most innovative and reliable software and hardware components. The process control and I/O control servers
utilize a Linux OS (OLE), providing unmatched reliability and viability when compared to its competition. With a FlexYard control system running Linux, there will be no issues with OS upgrades, which create backwards compatibility issues or obsolescence due to incompatible hardware. FlexYard servers NEVER NEED TO BE REBOOTED. FlexYard and FlexTrim systems that are currently
in-service have not required rebooting for over 18 months. This is because of the efficient 3Z system software running on a Linux OS, which is installed on an industrial ruggedized server designed for harsh environments. So, add value to your RR with a FlexYard or FlexTrim control system. We guarantee you'll see increased production and reliability with reduced dwell and maintenance.