Classification Yard Automation
3Z's FlexYard process control system is one of our flagship products designed specifically for hump or flat switching classification yards. FlexYard has been built with capabilities superior to past and present competing technology, ensuring safety, reliability, and flexibility at low cost. Enhanced protection logic virtually eliminates the possibility of a cornering incident, a Linux OS provides high availability without being prone to crashes, and modular hardware allows the ability to expand, modify, or replace components with minimal downtime and cost. Innovative, custom features not available in competing products such as HumpAnywherelogic, FlexDraw, FlexVoice, and complete remote accessibility to logs, reports, and diagnostics via web browsers sets FlexYard apart from competing products.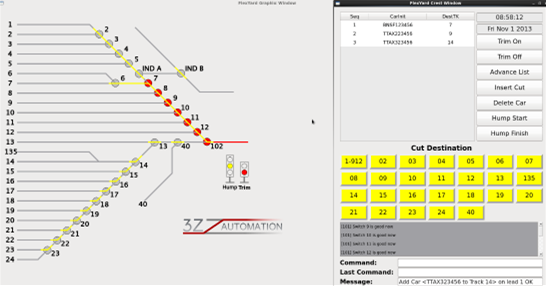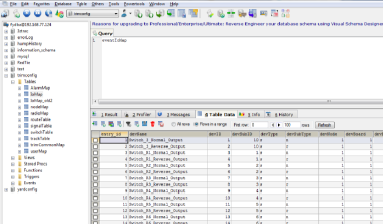 Functionality and Capabilities
Retarder and Switch Control (pneumatic, electric/hydraulic, skate)
Cut/Car Routing and Tracking
Enhanced Stall and Cornering Protection Logic
Automatic Tuning
Advanced Rolling Resistance Algorithms
Complete Hardware Redundancy
True Hot-Standby: Infinite Fail-Over and Fail-Back Capability
MIS/RR Network Integration
Web Based Logs, Reports, Configurable Automated Alarms, and System Health Monitoring
Innovative Features
HumpAnywhere Logic
GPS Time Sync
FlexVoice–Speech Recognition Control and Audible Voice Alarms
Workstation Screen Capture and Video Replay (Under Development)
Benefits of FlexYard
Reliability: No need to reboot with solid-state, robust, industrial hardware with Linux OS
Flexibility: Off the shelf modular hardware,completely database configurable, and FlexDrawworkstation graphic design tool.
Accessibility: Remotely access event logs, customizable reports, and monitor system health diagnostics via web browser.
Take Control: Invest in Innovation
At 3Z, our extensive and diverse experience in railroad has allowed us to understand the technology and operational processes deployed in rail yards throughout the world. More importantly, however, we understand how rail yard technology and operational processes integrate, the existing challenges and deficiencies, and how to incorporate viable solutions to overcome those obstacles.
HumpAnywhere is a FlexYard feature that allows humping, switching, or kicking from ANY location, on ANY lead in the yard. Pins can be pulled from the most efficient lead or track for each specific sequence of cars. Are cars only destined for tracks 3, 4, and 5? Do you have a unique lead layout and kick from multiple locations? No need to pull back to the crest. With Hump-Anywhere, just pull back enough to clear the first switch in the next route and the new route you need will line. HumpAnywhere inherently increases yard operating efficiency by reducing the distances of moves, the distances free rolling cuts travel, and the time a user interfaces with the system.
FlexVoice is a newly developed speech recognition and voice alarm application which can be integrated into any FlexYard or FlexTrim system. FlexVoice allows operators to use voice commands to line routes, change modes, add/delete cars from a list, etc. Verbal responses confirm commands after each is requested and after each is executed. With FlexVoice, operators can verbally and securely control the yard system from any fixed or mobile microphone located anywhere in the yard. Eliminate the reliance on Tower or Crest operators to control your yard by adding FlexVoiceto your railroad.